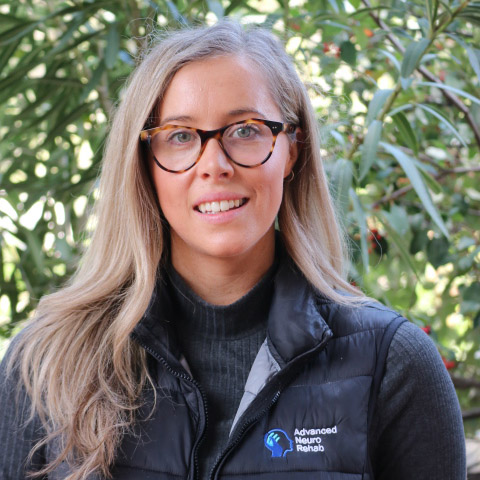 Liz Jemson-Ledger
Clinical Lead Physiotherapist
B. App. Sc. (Physio)
Liz is our Clinical Lead Physiotherapist, she has experience in various domains of neurological physiotherapy, a vibrant personality and a drive to work hard with her clients in achieving their goals.
After graduating with a Bachelor of Physiotherapy in 2015 Liz immediately immersed herself in the field of neurological physiotherapy. In her graduate year she worked both rurally as well as at the Brain Injury Rehabilitation Unit (BIRU) where her passion in problem solving the complexities of the brain all began. Liz joined the ANR team in 2012 where she thrived learning about various neurological and vestibular conditions; developing specific interests in brain injury, dizziness, spinal cord injury and concussion.
Over the subsequent years, Liz has grown a wealth of knowledge through courses including Neurological Physiotherapy Level 1, Neuromuscular Dry Needling, Management of the Cervical Spine, Concussion and Dizziness workshops as well as many more. Liz's interest in concussion has also led her back to post graduate studies where she is currently completing her Masters of Clinical Rehabilitation (Neurological Physiotherapy), focusing on concussion research. Liz has also developed concussion assessment protocols for the ANR clinic as well as the South Australian Cricket Association where she implemented these protocols with cricketers from the Redbacks and the Scorpion squads.  
Liz strongly believes in empowering her clients through patient education, working hard (which you can regularly hear through the clinic walls) and making therapy fun. If she isn't at the clinic, you'll find Liz keeping active (gym, running, Pilates), at the markets (massive foodie), gardening or working on some kind of DIY project. For any more information or if you had any further questions for Liz, make sure you call the clinic, she's more than happy to have a chat!